Dr. Jairamchander Pingle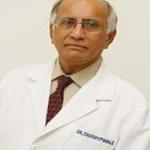 Specialization :
Orthopaedics and Joint Replacement
Introduction
Work Experience
Registrar in Orthapaedics in prestigeous Princes Maragret Rose Orthopaedic Hospital & Royal Infirmary which are teaching hospitals.
Worked under Prof.Jip James who was then chairman of Orthopaedic traning programme for Great Britain & poineer in field of scoliosis.
After returning to India in 1972, Joined The Nizams Orthopaedic Hospital as pool officer under Dr.M. Ranga Readdy who pioneered field of Orthopaedics in Hyderabad.
Later appointed as civil surgeon & Professor of Orthopaedic Nizams Institute of Orthopaedics upto 1986.
Inducted in Ministry of Health Saudi Arabia as Senior Orthopadic Surgeon at King Fahd Central Hospital in year 1986
Returned to India in 1988 & appointed as Co-Ordinator & Chief Orthopaedic Surgeon at Apollo Hospital, Hyderabad.
Fellowships and Memberships
Permanent Member, Indian Orthopedic Association (10A)
Member, APIOA
Member, Indo German Orthopedic Foundation
Member, British Ortho Association
Member, APOA
Member, Twin Cities Orthopedic Association
Member, Twin Cities Spine Association
Awards and Achievements
Awarded the Vyageshwarudu gold medal for the best paper at Indian Orthopaedic Association
The best doctor award in 1987 by the prince of Gizan, Saudi Arabia
First to perform total hip replacement in Andhra Pradesh in 1976
Started total knee transplant in 1989
First to start Anterior Cervical Discectomy and stabilization with plates and screws
First in state to start scoliosis surgery with Luque Technique in 1984
Unique Contribution
ORIGINAL ARTICLE IN 10A JOURNAL 2014. "TRANSFRACTURE OSTEOTORY. A SOLUTION FOR NON UNION OF FRACTURE NECK OF FEMUR."