Dr. Lakshmi Kanth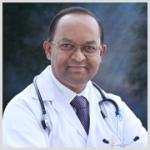 Introduction
Work Experience
Dr J Lakshmi Kanth is a highly reputed and accomplished Orthopedic and spine surgeon with over 18 years of experience in Joint replacements (Hip, Knee & Shoulder) and Spine surgery.
He is presently practicing at Apollo Hospitals in Bangalore (Accredited by Joint Commission International USA).
Dr J Lakshmi Kanth has so far performed more than five thousand complex surgeries at reputed hospitals in UK and India with excellent results.
He is a Fellow of the Royal College of Surgeons, UK and is registered with the General Medical Council in the United Kingdom.
He participated in the specialist registrar training program at Guys Hospital and St Thomas's, London (1994-2000) and has completed fellowships in spinal surgery at St James's university Hospital, Leeds, UK where he got trained in all aspects of spinal surgery with special emphasis on Scoliosis and complex spinal reconstructive surgery.
Teaching Experience : Dr J Lakshmi Kanth had the opportunity to teach undergraduate Medical students at St. Thomas's Medical School, London and German Medical students posted at Eastbourne District Hospital, England.
He was also an honorary tutor for Post graduate Doctors preparing for FRCS examinations at Brighton, (UK) and for Spinal surgery at St. James's University Hospital, Leeds.
He has also lead the Diplomate National Board (DNB) training program in Orthopedics at Bangalore Professional Training : 1. AO Course, London UK. 2. ATLS Course, Cambridge.UK 3. Reading Shoulder Course 4. Edinburgh Trauma Symposium. 5. Hand Surgery Course, Edinburgh.UK 6. AO Spine Course, Nottingham.UK 7. Basic Sciences Course for FRCS Orth. Newcastle.UK 8. Approaches to the Thoracic and Lumbar Spine, London.
Medical Council Registration
KMC 25456
Special Interests
Joint replacements of Hip and Knee and Spinal deformity corrections.
Performing complex surgeries of pelvis and acetabular trauma.
Fellowships and Memberships
Member Indian Orthopedic Association (IOA)
Member Indian Arthroscopy society (IAS)
Member Bangalore Orthopedic Society (BOS)
He is a Spinal Fellow at the Department of Spinal Surgery, St. James University Hospital in Leeds, UK
Awards and Achievements
Advanced Spine surgery including Microdiscectomy, Stabilization, Decompression, Instrumented fusion for infections, trauma and degenerative Arthroscopic Joint Surgery Endoscopic neurosurgical procedures, Complex and revision surgeries - correction of Spinal deformity. Anterior column fixation through ilioinguinal approach.
Unique Contribution
Various Publications at National & International Level